Before your appointment?
Please follow the instructions on the appointment letter and remember to bring with you:
A urine sample
List of your usual medication
Blood monitoring booklet (If you have one)
What happens on arrival at the department?
Finding your way to the rheumatology department
Below is a short video explaining how to find your rheumatology appointment at the Lister.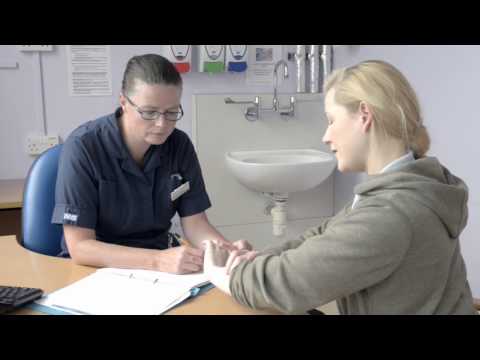 Once you've arrived at the department 
Please inform reception of your arrival. Your details will be checked and you will be asked to take a seat in the waiting area. The nursing team will call you and check your weight, blood pressure and urine if necessary. Your medical notes will be reviewed by the nursing team to ensure your most recent blood results and/or x-rays are available.You will then be asked to take a seat and the doctor or nurse specialist will call you in time order.
Your appointment will be with the consultant rheumatologist or a member of their medical team or the specialist registrar. Dr Ellis provides teaching clinics on a Monday afternoon, where you may be seen by a senior house officer but will also be reviewed by a consultant. Sometimes medical students or junior doctors may be present in the consulting rooms for teaching purposes.
During your appointment
If you are attending for a first appointment in the Rheumatology Department this will normally last 30 minutes. The doctor will ask you questions about your current complaint and also obtain considerable detail about any other medical history you may have, the medication you are taking, any relevant family history and cigarette and alcohol use, when appropriate. A general examination will also be performed and it may be necessary for you to undress to your undergarments so that all systems can be examined. A chaperone will always be available.
The doctor should then discuss their impression with you and outline any investigations that are necessary. Sometimes an intervention can be performed on the day such as a joint or tendon injection and at other times a further follow up appointment will be organised. We have a wide amount of literature available on all rheumatological conditions which can be issued to you at the end of your consultation. Please feel free to ask any questions or raise any concerns during your appointment.
Follow up appointment will generally last between 10 and 15 minutes
Following your clinic appointment
You may need to start new medication following your appointment. You will usually be given a prescription which can be dispensed by the hospital pharmacy. You will generally only be issued with a small supply of medication and will need to obtain further prescriptions from your GP.
Sometimes conditions will not require further follow-up from the rheumatology team and if this is the case you will be discharged back to the care of your own GP. Where necessary, a further appointment will be arranged before you leave the department.
If you have any queries or you need to change the time or date of your appointment, please phone the consultants' secretaries:
Appointments for rheumatology and general medicine: 01438 284444
Acute services rheumatology advice line: 01438 285624
Annual review advice line: 01438 284672